Return of the Community Housing Inspectors – Letting Agent protest Sat 27 Apr, 12pm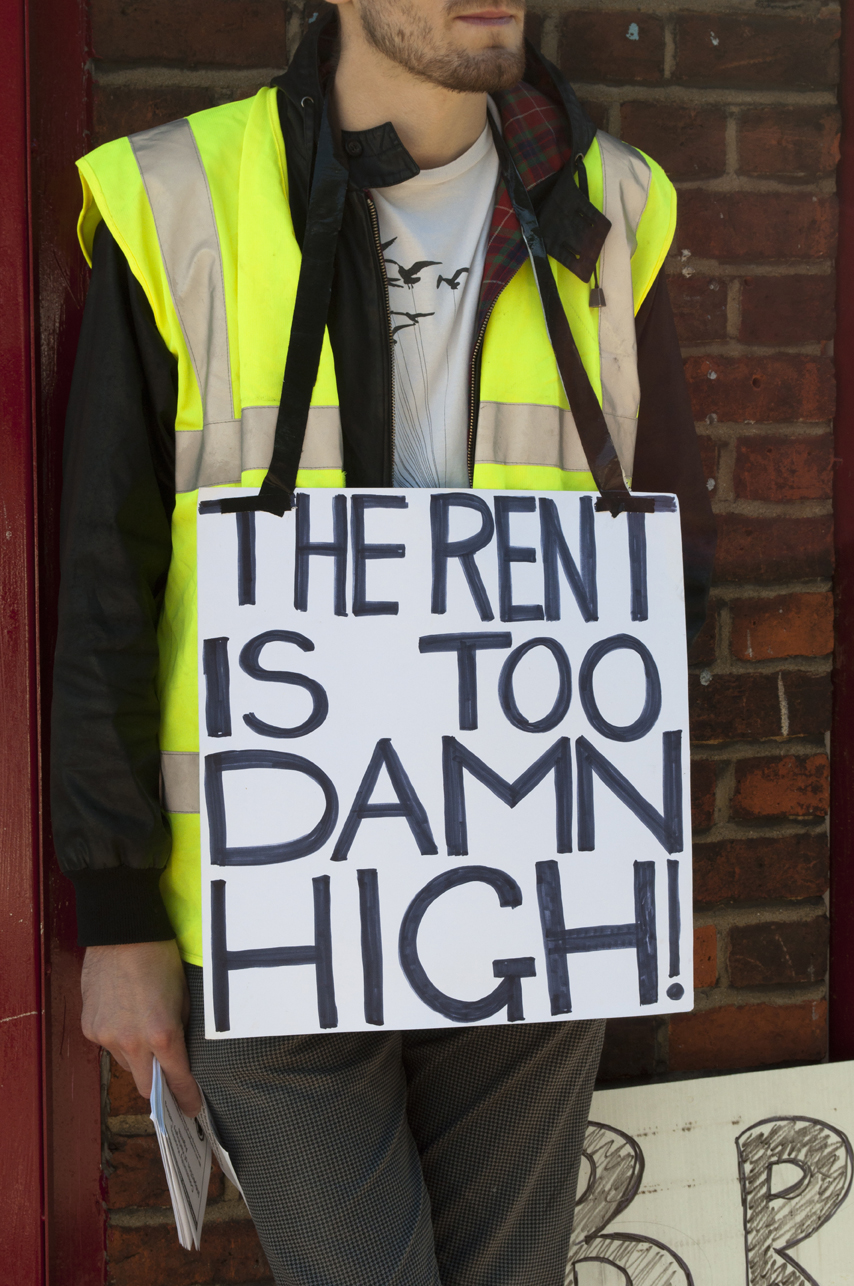 April 26, 2013
Join in, and meet at 12 noon outside Turnpike Lane tube.
We will once again be taking to the streets of Haringey to inspect local letting agents as part of Let Down: a day of action against letting agents.
Six months ago, on 6 October 2012, local housing campaigners became 'Community Housing Inspectors' to investigate local letting agents and uncover the unwelcome practices they are engaged in. On Saturday we are carrying out further inspections to find out if any of our demands for changes have occurred. Where they have not, we will be providing a 'Cease and Desist Order'* to letting agents found to be engaging with greedy and anti-social behaviour.  The 'Cease and Desist Order' will only be revoked if they put an end to such practices.
These unwelcome practices include:
Discriminating against housing benefit claimants
Charging extortionate fees to prospective and existing tenants
Encouraging short term tenancies to maximise renewal fees
Inflating rents
Until 1988 most private tenancies were secure and long term, and rents were capped by law at affordable levels. Fees are extortionate and outlawed in Scotland. Discrimination against benefit claimants should be illegal under equalities legislation. If you've had enough of such dodgy behaviour, come along.
Bring hi-vis vests, clipboards and pens if you want to take part in the inspection or just come along to support others and let everyone else know what we're doing. We will have leaflets to hand out with our demands (see below).
Over 20,000 households in Haringey rent their homes from private landlords, and about half of these are claiming housing benefit. The greedy and discriminatory practices of letting agents are a huge problem for Haringey as well as London as a whole.
Our demands:
Bring rents down! According to a recent report, one in five landlords had increased their rents because their letting agent had encouraged them to. This was five times as many who had done so because of increased costs.
No discrimination against people on housing benefit
Remove all fees for tenants: 'agency fees', 'reference checks', 'admin fees' and 'leaving fees' are all costs that have been created over the past few years by and for letting agents, to increase their profits and exploit tenants' basic need to find a home
Longer and more secure tenancies
Tweet your support: @haringeyhousing #LetDownRenters
Organised by Haringey Community Housing Inspectors (members of Haringey Housing Action Group and Haringey Private Tenants). For more information, email haringeyprivatetenants@nullgmail.com or housingaction@nullharingey.org.uk
We believe: everyone is entitled to a decent, secure, affordable, local home.
We demand: bring rents down – stop discrimination and fees – bring back security of tenure
* "A cease and desist order is an order or request to halt an activity (cease) and not to take it up again later (desist) or else face legal action. The recipient of the cease-and-desist may be an individual or an organisation." [Wikipedia]
Not in Haringey? There are events happening across London
Do head down to one of them if you're in town and free.
Let Down: day of action against high rents and letting agent fees – Sat 27 April
Private tenants are being let down by poor standards, sky-high rents and extortionate bogus letting agent fees.
Islington – Housing Crisis Monopoly
Meet 12 noon at Islington Green, N1 8DU
http://www.facebook.com/events/241209972683850/
We will be doing a tour of some of local letting agents with a MONOPOLY themed action.
We'll have props and banner to give out on the day but please bring anything else you have including:
    Banners/ 'adapted' letting agent placards
    Monopoly props like top hats and monopoly money
    Anything to make noise with!
This action is being organised by local people from north and east London including the private tenant groups Digs (Hackney), Tower Hamlets Renters and Islington Private Tenants. If you have any questions or ideas, please email hello@nullhackneyrenters.org
Brixton – Community Housing Inspection

Meet 2pm at Windrush Square, Brixton, SW2 1JQ
http://www.facebook.com/events/540646349307824/
Rents in Brixton and across London are sky-rocketing! Unregulated lettings agents are discriminating against tenants on housing benefit, fleecing us with rip-off fees and helping to drive up rents. We've had enough!
Join us for a 'community housing inspection' of Brixton letting agents to find out exactly what they're up to, and let them know what we think.
Bring banners, placards, high vis jackets and clipboards – we don't want to be messed around!
Questions or ideas? Email housingaction.london@nullgmail.com
Herne Hill – Sing Let Down!

Meet 10.30am at the piano in Herne Hill train station, SE24 0JW
http://www.facebook.com/events/146871638824661                   
Come along to join us to create a complaint song on the spot at Herne Hill station. Sergio López will be leading the creative rehearsal session until 12.30pm, creating a song using lyrics collected via twitter from tenants across London.
From 12.30pm, we'll be performing a capella at the station and letting agents around Herne Hill, then taking the bus (3 or 322 – still singing!) to join activists in Brixton from 2pm (details below).
We are looking for 4 – 8 singers and one music leader to sing along with other participants joining us on the day. We need your help to bring your community music skills to engage and encourage other people to participate, learn and sing the song and get bigger and louder.
For more information, call 07811458779 or email video@nullbigbang-lab.com  
—
Housing for the 99%
Taking action for decent, genuinely affordable homes for everyone
Email: housingforthe99@nullgmail.com
Web: http://housingforthe99.wordpress.com
Twitter: @housingforthe99
Category: Uncategorised
Tags: housing