No to workfare at Homebase – Harringay and Willesden joint protests, Sun 22 Sep, 1pm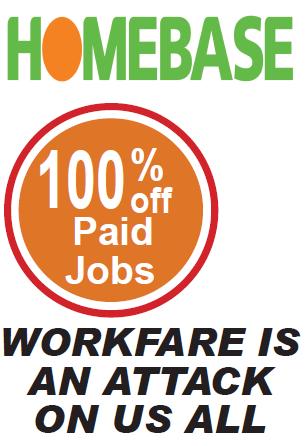 September 17, 2013
Haringey Solidarity Group are calling for people to join a picket outside the Harringay Homebase following recent confirmation that the Willesden branch of Homebase continue to recruit unpaid workers via their local Job Centre. This is despite earlier statements from Homebase stating that they would only take on people on work experience through local organisations, and where claimants were under no threat of sanction
Join us at: Harringay Homebase, Arena Retail Park, Green Lanes, N4 1DT.  Just by the bridge on Green Lanes.  Buses: 29, 141, 341. Tube: Manor House. or one minute walk from Harringay Green Lanes overground.  (Facebook event is here)
Earlier this year, the Harringay store took on tens of workfare placements, resulting in overtime cuts for all staff. HSG took part in a number of protests there, in conjuction with Boycott Workfare and North London Solidarity Federation, eliciting a statement from the company that claimed they would not continue to use people from Job Centre work experience schemes.
However, Boycott Workfare has since been contacted by Homebase employees with information that the company has been seeking their "voluntary" staff via the Neasden Lane JobCentre Plus as late as 22 August 2013. Non-attendance by these "volunteers" is likely to result in sanctions, and loss of benefits.
There will be a joint picket at the Willesden Homebase organised by Brent Housing Action and Kilburn Unemployed Workers Group.
For more information, see the Boycott Workfare website.
Category: Uncategorised
Tags: workplace organising