Say No to Edmonton Incinerator expansion
October 1, 2021
Over 200 people marched from Edmonton Green station in protest at catastrophic plans to rebuild the Edmonton waste incinerator.
Activists from Black Lives Matter and Extinction Rebellion joined local residents on the protest against the North London Waste Authority's (NLWA) plans to rebuild of the existing plant.
Protestors carried banners reading "Stop Burning Recyclables" and "Black Lives Matter", in protest against the fact that the toxic gases from the incinerator will primarily pollute a majority Black and ethnic minority community.
Acciona, a Spanish multinational company, look set to take on the contract to build the new plan with construction set to begin by mid-2022.
A spokesperson for the Stop the Burn campaign said: "Saturday's march should send a message to the NLWA and Acciona: north London does not want your incinerator and we will keep fighting until you back down. Your plans are catastrophic for the environment and devastating for a poor, multi-ethnic community in London.
Activists warn the project would end up as either an environmental nightmare or a financial albatross, rendered obsolete by new recycling laws and emissions restrictions.
Also, no financing has been secured for the incinerator to be equipped with carbon capture and storage technology, which remains prohibitively expensive and unproven at scale.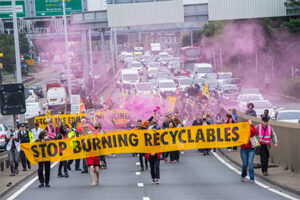 Category: Uncategorized