Anti-workfare protest outside North London Hospice shop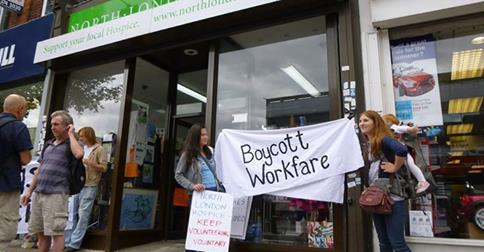 August 18, 2014
Pickets, protests, and online pressure are meeting each organisation that is found participating in the government's latest and longest workfare scheme – Community Work(fare) Placements.
On Saturday morning, 16 August, Haringey Solidarity Group held a picket outside North London Hospice charity shop on Wood Green High Road (near Turnpike Lane) about their involvement with the six-month long, forced labour scheme. The picket attracted lots of interest and support from passersby, with some saying they would no longer shop there and others saying that they would contact the hospice to let them know about their concerns.

We have spoken to at least two people on Community Work Placements at this shop, and others at the shop near Wood Green tube. 

You can find more details about how to get in touch with North London Hospice in our article here.

Category: Uncategorised
Tags: debt / welfare benefits